Today marks a great first official podcast for Flatout Investments we had the legendary most badass race car driver Paul Gerrard who was TOP GEAR's Stig for 8 years from 2008 to 2016 Talking about one of the most iconic and most technologically built Winning Lemans Race car the 1969 Porsche 917. We dove deep into the history of the car the purpose of the cars and what does it really take to become the a Real Race Car Driver according the man him self.
Episodes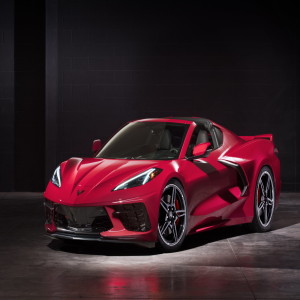 Saturday Sep 07, 2019
Saturday Sep 07, 2019
Hello to all my gear heads Car guys and girls and special thanks to the C8 Corvette Owners ( And Friends ) Facebook page. On this episode of Flatout Investments Podcast we dive deep into all the very important questions we all have about the C8 Corvette and its new future with Lance a member of the C8 Corvette Owners facebook page and an C7 Z06 corvette owner him self. We went into all different aspects and subtopics which anyone who is remotely interested in the C8 should listen to and consider.    

We cover 4 of the most important questions that everyone in the industry and all of us have been asking.  
1. How the Mid engine platform will change the Corvette brand into new uncharted territory. 
2. High performance Modifications you want to do to your C8 once purchased. 
3.Why would anyone want to choose the C8 over all its Supercars competitors and rivals?
4. Talk about the rival Supercars and how they will be competing against the C8
Wednesday Jun 05, 2019
Wednesday Jun 05, 2019
Hello Cars guys Car girls and everyone in between that's crazy about everything and anything that is what makes up today's Automotive industry.

Join us for one of the best first podcast episodes in the automotive industry as far as the podcasting goes. Albert Gocsman gets to speak to one of the most legendary race car drivers we never got to know, until just a few years ago Paul Gerrard The STIG From TOP GEAR fuck yes guys. We also talk about his very ambitious book called Optimum Drive which you can purchase it in amazon right now. There is no other racing book like it do not waste your money on anything else especially another cgi infested movie. Give your brain something real and meaningful to consume. The link below will take you right to it.
https://www.amazon.com/Optimum-Drive-Road-Driving-Greatness/dp/1633535177

We Dive in first to speak about one of the most badass Race cars to have ever been built which could still kick some serious ass on the race track today, the 1969 Porsche 917. Not only is the one of the very extremely rare 25 ever built race cars it is one of the most infamous 917s. Below is all the information you need to know about the car which we are speaking about. We also dove into all very amazing subjects such as What does it take to become a real race car driver and not just giving into "excuses" as Paul will let me know. A whole lot of car culture info even going back to street racing vs track racing. Please post up your comments and opinions of what you think as we will be continuing to upload two to three podcast a day with different topics every week.
The next podcast will be with Albert and Anegla Ladyskyyr32 and speaking to her about where her Car girl passion came from and where its going next. Obviously into her R32 GTR Skyline lol.
For the third podcast which will be a follow up to this one will be with Albert, Paul, and Adrian who is mechanical engineer and we will be coming up with cooling fix for the Enviate's LS1 cooling problem. If you do not know what an Eviate is google that fucker right now you will thank me later just so you know it has 7000 lbs of crushing downforce. Yes you read that correct 7000 lbs. We will than cover a shit load of mechanical engineering technical terms so you guys can learn from it and not have to go and fail at getting an engineering degree this way is much cheaper trust me.  
Porsche 917 History and Specs
One of the original 25 homologation cars One of the 1st Gulf-Wyer 917s The 1st 917 to go a full race distance Drivers: Jo Siffert and Brian Redman A very special era in the history of the Porsche 917 stems from a private conversation held between Porsche team manager Rico Steinemann and the legendary John Wyer the night before the running of the 12 Hours of Sebring in 1969. Steinemann had been authorized by Porsche management to offer J.W. Automotive Engineering the Porsche factory racing program for 1970 and 1971. Now there were several reasons behind the invitation, foremost was the ability of the Slough based U.K. team to consistently win against newer cars backed by better funded teams.
Case in point being that the Gulf Oil backed J.W.A.E. outfit was using what many considered an obsolete car in their Ford GT40 against current competition, and beating them. Wyer replied that he would take the matter up with Gulf Oil who were more circumspect as to what could be gained by joining Porsche. When the 917 was shown at the Geneva Salon a week earlier John Wyer had clearly seen the future of sports car racing. In Wyer's own words, "Porsche had, typically, done it first, and at a stroke every other car was out of date". In addition, he pointed out, in the direct Wyer manner, that he could offer no prospect that would be able to beat it.



All of this took place in April of 1969, and while there was a basic agreement and understanding between Wyer and Porsche, there was still a full season of racing ahead. The high points for both organizations were J.W.A.E. once again claiming the 24 Hours of Le Mans with their "obsolete" Gulf GT40, and Porsche winning the World Championship of Makes using a combination of 908s and early model 917s. The final contracts were signed in August.



The agreement called for Porsche to supply J.W.A.E. with seven complete 917s over the 1970 season. The first of those was chassis 917 first raced in 1969 at the Nurburgring 1000KM in its original 917 bodywork. David Piper and co-driver Frank Gardner took 8th place, and thanks to this finish it would be the first 917 to finish a race in its entirety.






Serious preparation on 917-016 was well underway at Slough in March, with the upcoming 1000KM race at Brands Hatch to be held on April 12th. A letter from J.W.A.E., received at Porsche on April 2, 1970, requested a number of new parts to bring it up to date, which were promptly shipped out to Slough in time for the car to be ready to race. It was during this time that it was updated to the now iconic Kurzheck bodywork. 




Upon returning to the J.W.A.E. workshops after the race, it was determined that although the damage to the chassis was not significant, due to the immediacy of the upcoming race schedule it would be advantageous to return the damaged chassis to Porsche and replace it. This replacement chassis was picked up by J.W.A.E. from Zuffenhausen on April 26, 1970 and delivered to the workshops at Slough for immediate assembly. 




In 2004, the car was being offered by Fiskens of Kensington, and a deal was made by principal Gregor Fisken with Stephane Ratel of the SRO Motorsports Group. Ratel has impeccable credentials having been one of the founders of the BPR Series, which later became the FIA GT Championship. Ratel had his friend and
former partner in the BPR, Jurgen Barth, visit Fiskens and inspect 017 prior to purchase. Ratel had planned to run the 917 in historic events but simply did not have the time to participate, and the car then found its way to Miguel Amaral of Portugal. Amaral had his own impressive stable of current and vintage race cars, and raced 017 on the great circuits of Europe on numerous occasions. 



In 2008, Amaral decided to send the car to California for restoration under the guidance of noted Porsche historian Kerry Morse. The car was delivered to Porsche Motorsport North America for disassembly of the drivetrain and electrics. Unfortunately the project suffered a series of delays and setbacks, not an unusual occurrence with a difficult, high-end restoration.






Race history of 917 1969 April FIA (CSI) Homologation and registration May Preparation for the Nurburgring 1000KM June Nurburgring 1000KM Drivers: Frank Gardner and David Piper Result 8th overall. This was the second race for a 917, however, as the first race for the new car was at Spa where the car had mechanical failure on the first lap, this car is considered the first 917 to go the distance and finish a race in its entirety. June Stability testing at Hockenheim Driver: Herbert Linge

November Conversion to full 917K bodywork December Preparation and delivery to J.W. Automotive Engineering 1970 March Preparation for BOAC 1000 KM race at Brands Hatch April BOAC 1000KM race at Brands Hatch Drivers: Jo Siffert and Brian Redman Result: DNF April Original chassis 917 returned to Porsche to be repaired and renumbered as chassis 017 Technical Specifications: Porsche 917 Motor: Type 912/11  5.0 Liter (4998cc) twelve cylinder air-cooled Bore & Stroke 86.8 x 70.4  10.5 compression ratio 630 HP @ 8300 rpm  Torque 434 ft.lbs @ 6500 rpm Bosch fuel injection Transmission: Type 920 four-speed with reverse Chassis: Aluminum tube construction 1.6mm wall thickness Body: Fiberglass reinforced resin Wheelbase: 90.5 inches / 2300mm Front wheels: 10.5" x 15" magnesium (9" x 15" rain) Rear wheels: 17" x 15" magnesium (12" x 15" or 15" x 15" rain) Front track: 1582mm or 1620mm depending on wheel width Rear track: 1533mm or 1584mm depending on wheel width Overall length: 162 inches / 4120mm Width: 78 inches / 1980mm Height: 37 inches / 940mm Weight: (without fuel) 1764 lbs / 800 kgs.